You are here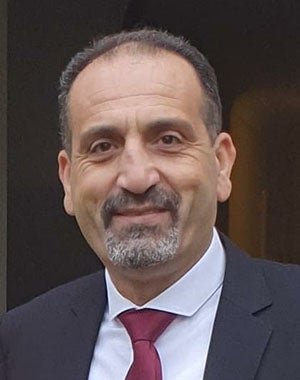 Iyad H. Nasr
Dr. Nasr is an experienced and long serving international professional with more than 25 years of experience in the humanitarian and development work.  Dr. Nasr has a wealth of knowledge and experience in leading teams in situations of crises and emergencies in the MENA region and globally.  He has served in multiple duty stations as a senior humanitarian leader with extensive knowledge of the humanitarian operations in Syria, Yemen, Iraq, Libya, Palestine, Pakistan, the GCC, etc.
Dr. Nasr has served in several senior positions in large organizations, where he headed the Department of International Humanitarian Law and media relations for the International Committee of the Red Cross in Palestine for 10 years, served as the senior special advisor to the Director of Operations of UNRWA for Political Affairs and Human Rights, led the UNRWA Satellite TV channel promoting education and human rights values, led the regional advocacy and media relations for UNOCHA and currently has been serving as the Regional head of UNOCHA for the Middle East and North Africa, Iran and Turkey since January 2017.
Dr. Nasr joins UNFPA with a rich experience in senior fiscal and program management, leadership, humanitarian diplomacy, negotiations, emergency response, donor relations and fine experience in Human Rights and International Humanitarian Law with focus on youth empowerment and protection of women in times of conflict.  Dr. Nasr is known for fighting all forms of sexual abuse and gender-based violence throughout his carrier.  He has clear fingerprints in the utilization of Drama in promoting women health, human rights and youth engagement.   Dr. Nasr is a strong actor in the filed of engaging women and youth in peace building and peace keeping activities at country and international level.  He is the developer/implementer of the UNRWA human rights program taught at the UNRWA schools in the 5 areas of operation based on the Universal Declaration of Human Rights.
Over the past 5 years, he has been a key promoter of the triangulation between humanitarian, development and peace keeping operations in serving the new way of working set by the grand bargain during the WHS in Istanbul.  This was successful thanks to his extensive experience in strategic communications and advocacy in the region.
Dr. Nasr holds a PhD in Cognitive Psychology (Rational, Emotive Behavioral Theory/REBT), a Master's degree of science in Public Health and community rehabilitation, a Bachelor's degree in Applied Health Sciences, a Bachelor's degree in Law/International Humanitarian Law (IHL/LOAC) and a Post Graduate Diploma in community and sexual health and rehabilitation.