You are here
Country Representative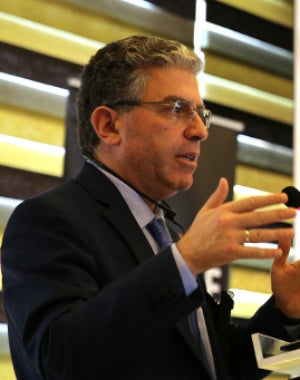 Karen Daduryan
Mr. Karen Daduryan is a national of Armenia with an extended career and expertise in leadership, strategic planning, management, programming, and resource mobilization at country, regional and global levels.
Mr. Daduryan joined the UN 21 years ago as part of Armenia's National Human Development Report team. Since then he has worked in international development in various positions. In his previous role at UNDP, Mr. Daduryan led Social Development portfolio and was in leadership of the largest integrated programme for community development.
Mr. Daduryan joined UNFPA in 1999 as the National Programme Officer overseeing the establishment and expansion of UNFPA Country Office in Armenia. He later assumed the responsibilities of UNFPA Assistant Representative in the same country office.
In 2005, Mr. Daduryan joined UNFPA Headquarters, New York, where he worked in the Strategic Planning Office and later in the Programme Division, contributing to the development of UNFPA's first Strategic Plan 2008—2011 and roll-out of results-based management as well as corporate accountability and reporting systems.
In 2009, Mr. Daduryan joined the newly established Eastern Europe and Central Asia Regional Office (EECARO) as Team Coordinator in New York initially and later moving to Istanbul. In January 2014 Mr. Daduryan was appointed as Deputy Regional Director where he played a crucial leadership role in establishing and operationalizing the new regional office.
In February 2016, Mr. Daduryan was appointed as Deputy Regional Director in Arab States Region where UNFPA delivers humanitarian response and resilience-based programmes in complex humanitarian emergencies. His portfolio included leading and coordinating the regional team support to country offices operating in Syria, Iraq, Yemen, Libya, and Horn of Africa, among others.
In September 2018, Mr. Daduryan began his assignment in Syria as UNFPA Representative.
Mr. Daduryan holds a Master's Degree in Oriental Studies from Yerevan State University, as well as Diploma in International Relations from Haigazian University College in Beirut.  His professional training includes completion of leadership programmes with e-Cornell (US) and Canfield (UK) Universities, as well as the UN Leaders Programme with the UN System Staff College; he also studied corporate law, health financing, strategic management, and programme development. Mr. Daduryan is married with one son.