ZAATARI, Jordan – Syrian refugees in Jordan have endured frigid temperatures, powerful winds, and heavy snow and rainfall this winter. A dangerous mid-January snowstorm, named "Huda," collapsed tents and unleashed flooding in Zaatari, Jordan's largest refugee camp. Hundreds were forced to evacuate to emergency shelters. Amid these hardships, dozens of babies were safely born at the camp's UNFPA-supported clinics, which continued to run around the clock at full medical capacity.
"The work never stopped," said Fares Abdullah, a 37-year-old gynaecologist, who spent the storm at a clinic supported by UNFPA and the Jordan Health Aid Society (JHAS). 
The clinic was manned by an emergency team of two gynaecologists, four midwives and a handful of nurses.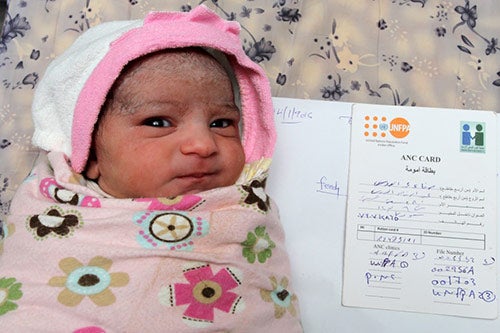 "I stayed at the clinic for 48 hours, in which I delivered around 22 babies – in addition to my other regular daily routine work," Dr. Abdullah said.
"I also had to refer some cases to the hospital outside Zaatari," he added.
Two UNFPA-supported ambulances operated throughout the storm, transporting women with labour or pregnancy complications to hospitals outside the camp. Two additional vehicles were placed on stand-by in case the clinic required an emergency evacuation.
"Working like bees"
From 7 to 11 January, some 41 births took place at UNFPA/JHAS clinics in Zaatari, and some 15 cases were referred to hospitals. The clinics also continued to provide antenatal care services. Some 51 pregnant women and 16 women with reproductive health issues received care during the storm.
"It took me hours to arrive, as it was rainy and windy," said 24-year-old midwife Wa'd Jaddou, who worked a 48-hour shift at the clinic during Snowstorm Huda.
"The road was slippery, so it took us double the time to arrive at Zaatari camp," she said. "Once we arrived, we were divided into teams and started working like bees. I was helping everywhere – I even delivered, myself, [the babies of] eight or nine women."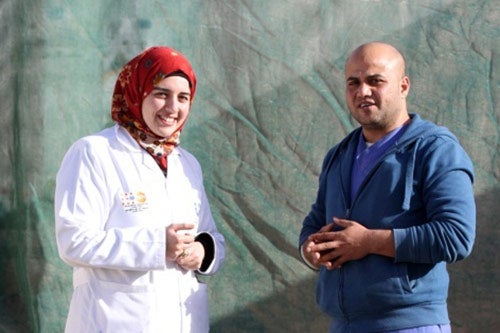 For health workers like Ms. Jaddou, the work is its own reward. 
"I studied midwifery because since I was a little girl, I wanted to help and to assist in giving life to those sweet babies, no matter what the conditions were."
Consistent quality of care
Since UNFPA-supported clinics were introduced in Zaatari in 2012, more than 120,000 women have been served with reproductive health care. And since 2013, over 2,500 safe deliveries have been performed. Approximately 60 to 80 women receive health services at the clinics every day.
To deliver this care, UNFPA works closely with JHAS, with support from the European Commission's Humanitarian Aid and Civil Protection Department and the US government.
Meanwhile, the extreme winter weather is continuing to take a toll on refugees and displaced families in the region.
Health workers in Zaatari say they are redoubling their efforts ensure consistent and quality care for pregnant women, new mothers and others seeking assistance.
"We wanted to let them feel that our quality of services remains the same, even in hard situations," Dr. Abdullah said.