ZA'ATARI REFUGEE CAMP, Mafraq, Jordan — As a way to address both health needs and cultural sensitivities, UNFPA  is supporting a reproductive health clinic with a female gynaecologist in the Za'atari camp for Syrian refugees who have fled to Jordan.
Some 27,000 Syrian refugees are now living in the camp. Many are women who feel more at ease in seeing a female doctor, especially when dealing with reproductive health issues.
Buthaina, for instance, was in her ninth month of pregnancy when she sought a safe refuge in the Za'atri camp after fleeing the violence in her hometown of Daraa.
A female doctor makes the difference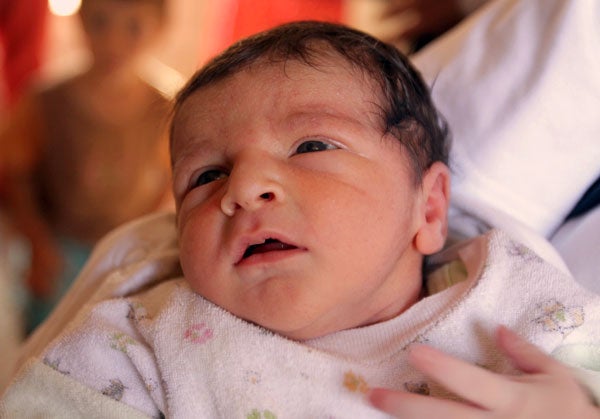 "Finding a clinic with a female gynaecologist in the camp was good news," said the 34-year-old mother, adding that she visited the clinic several times before giving birth to her baby girl in Mafraq Public Hospital.
Braeika, another pregnant woman living in the camp, said she was happy to find out that she can visit a clinic run by a woman doctor.
"I have just known that there is a female gynaecologist here, because I feel shy to see a male doctor," the 19-year-old said.
UNFPA established the reproductive clinic, the first in the camp, and procured the requisite equipment and drugs. The clinic is operated by the Fund's implementing partner, the Jordan Health Aid Society.
Established less than two months ago, the clinic provides reproductive healthcare services and advice for women residing at the camp, according to gynaecologist Dima Dyab who manages the clinic.
Services are in high demand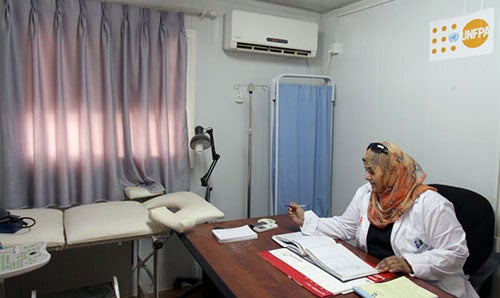 "Every week, we receive up to 200 women, and many of them are pregnant women who need regular medical checkups," Dr. Dyab explained, adding that women who give birth in the clinic also receive post-delivery care.
"We take the number of their tents to follow up on their health after they give birth," the doctor said.
She said some 100 pregnant women have visited the clinic,  eight of whom have already given birth. Because health services in Syria have been disrupted for months, many women coming to the clinic are long overdue for medical attention.
Despite the hard conditions in the camp, Dr.  Dyab said she is grateful that she is helping women there.
Because of the high demand for services, UNFPA and the Jordan Health Aid Society are currently working on expanding the clinic and equipping it with all needed drugs and supplies.
As part of the expansion, a prefabricated structure, designated for women recovering from labour, will give them dedicated space to receive postnatal-care and post-partum counselling.
With the number of Syrians in the camp increasing dramatically, UNFPA and its partners are seeking additional support to expand the services and open new clinics in the camp. The UN Refugee Agency reports tht 185,000 Syrians have entered Jordan since March 2011.
Reported by Khetam Malkwai
-