WFP & UNFPA SUPPORT SYRIAN MOTHERS
Women around the world greet pregnancy often with a mixture of joy and apprehension. But to be pregnant while facing the hardships of living in a conflict zone can be a truly daunting experience.
Less than three months pregnant and watching her world fall apart around her, Fatima and her husband Essam fled violence in Palmyra to settle in Homs. She grew weak in her first trimester, losing weight due to lack of proper nutrition.
"Becoming a mother and having a family was always a dream of mine. But I never expected it to happen in these circumstances."
To support women like Fatima, the United Nations World Food Programme (WFP) and the United Nations Population Fund (UNFPA) joined efforts, combining their humanitarian assistance programmes and launching a partnership to provide both vital nutritional support and essential medical services for pregnant and nursing mothers in Homs governorate.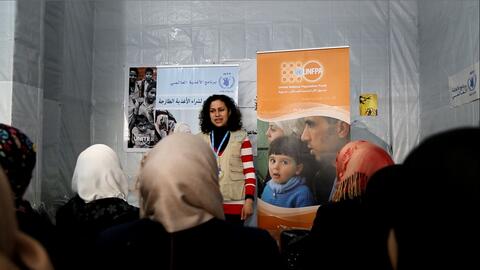 -----------------------------------
WFP provides food vouchers to pregnant and nursing mothers to buy fresh foods at local shops, helping to diversify their diets and improve their nutritional intake during and after pregnancy. UNFPA runs medical clinics that deliver babies, offer medical services during pregnancy and after delivery, as well as family planning advice and general reproductive health services. The partnership allows specialists in the both programmes to better identify and support the specific needs of each new mother.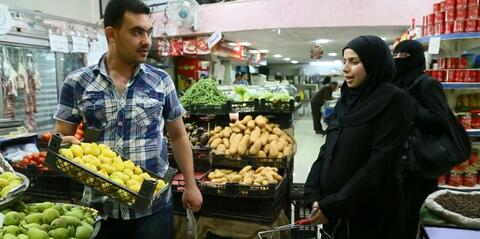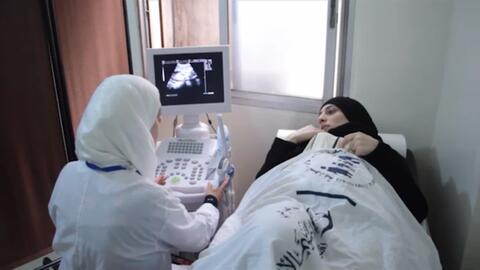 A BUNDLE OF JOY ARRIVES
Early in her pregnancy, neighbours advised Fatima to go to one of UNFPA's medical clinics where she was found to be lacking essential minerals and vitamins and below average in weight. At first, Fatima felt guilty for being weak. "What if I give birth to a sick baby?" she thought.
But UNFPA came to the rescue, offering Fatima regular checkups to monitor her health, and referring her to WFP, which provided her with monthly food vouchers to buy fresh food and guidance on what food to eat to regain her strength. Both services improved Fatima's health, enabling her to support her growing baby.
Six months later, Fatima delivered a healthy baby boy at a UNFPA clinic.
"The clinic and these vouchers saved my life and my baby's. I delivered Jad and I have been eating and breastfeeding without any trouble."
With new knowledge and the ability to acquire the diverse diet necessary for her health and baby Jad, Fatima now refers other friends and family to the life-saving programme she benefited from.
"My husband Essam and I are now able to spend what little money we have saved to buy diapers and clothes for Jad."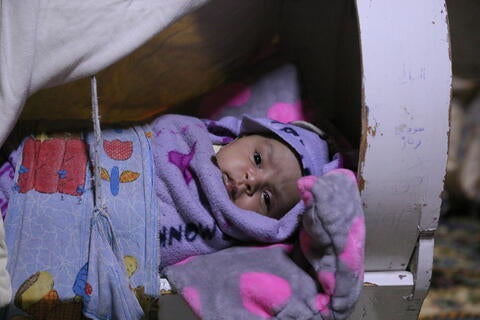 Written by Marwa Awad/WFP and Kinda Katranji/UNFPA.