ZA'ATARI CAMP, Jordan — As long as there is an urgent need for her skills, Muneera Sha'aban, one Jordan's first trained midwives, continues to pursue her calling of helping women deliver and training others.
The 69-year-old midwife, who says she enjoys doing her job regardless of all the difficulties she encounters serving in one of the UNFPA-supported clinics in Za'atari Camp for Syrian Refugees in Jordan.
Muneera's days start very early, as she makes her way from Amman to the camp, some 80 kilometres away. She leaves her house at 6 in the morning and takes two buses to arrive at the camp by 9.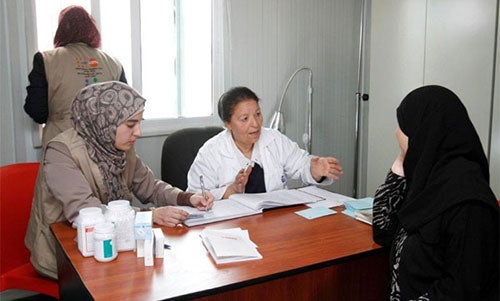 "I have to work to make a living, but without the love I have for the work I am doing, life could have been more difficult," she says, adding, "I return to my house at 6 in the evening, backed with satisfaction."
Her passion to help others and her love for her work prompts Muneera to rise to new challenges and defy odds.
But this is not new to her.
Born into a poor family, Muneera had to shoulder the burden of helping her family. So, back in the 1960s, when nursing as a career path for women was still frowned upon by many, she crossed the border into Jerusalem to study nursing at the age of 15.
Helping two souls:  the baby and the mother
Although part of her decision to study nursing was to help support her family, she quickly developed a passion for it. Later, she decided to specialize in midwifery and managed to get a scholarship to further her studies in London.
 "I wanted to be involved in helping two souls: the baby and the mother," she said.
When she returned to Jordan, Muneera became a pioneer in educating women about family planning at a time when the issue was controversial and tackling it was considered as a taboo. To upgrade her skills, she earned a certificate in family planning from John Hopkins University in the United States.
Delivering information in sensitive ways
Thirty years later, she is still educating women about the benefits of family planning and helping them protect their reproductive health – but now her clientele is Syrian women who have fled from conflict and endured much.
"I don't lecture them, I involve them in interactive discussions," Muneera says.
"In addition to talking to them about family planning issues, I always advise them on breastfeeding and its importance and help out with other services," she said, adding that her experience in working with refugees started with the Iraqi refugees 10 years ago.
'Mama Muneera,' as she is currently known among women in the camp, has the patience to deal with dozens of women daily and keep a smile on her face.
"She is like a mother to us," says Um Mahmood, a Syrian refugee residing Za'atari. "She never complains, she provides us with advice, care and aid."
A tireless champion for women's health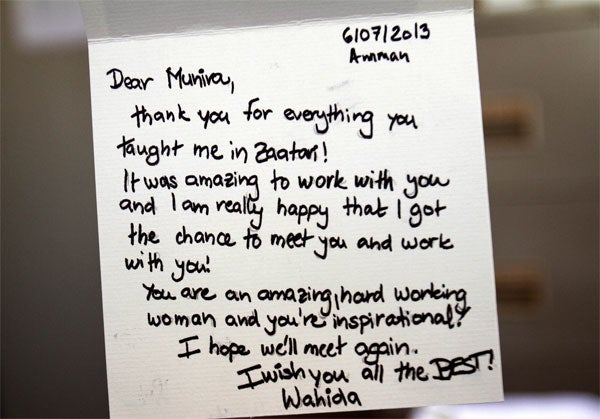 Even before she was recruited to work in the camp, Muneera was not taking it easy: She helped develop midwifery handbooks for new practitioners. She also brought her messages about healthy pregnancy to television, lectured in schools and universities, toured the country to educate women on health issues, developed a code of ethics for the profession and worked with other professional organizations on prevention and treatment of diabetes, cancer and other disease.
Her many contributions earned her recognition beyond the heartfelt notes and thanks and prayers from the mothers she had helped.  Although she was not able to pursue more post-graduate studies, Muneera was awarded with a certificate she cries while holding — an honorary doctorate for her practical achievements in the World Open University's International Initiative for Humanitarian Leaders
As she approaches her seventieth year, Muneera sounds as committed to contributing as ever: "I take chances and even if they are not related to nursing. I want to help women."
Midwifery skills needs to serve large numbers of Syrian refugees
Skills like Muneera's are sorely needed in Jordan, where are now over 500,000 Syrian refugees including more than 120,000 women of reproductive age. Some 15,000 Syrian women will likely be pregnant in Jordan this year alone.
UNFPA supports three reproductive health clinics in the Za'atari camp, which has become Jordan's third largest 'city', providing for nearly 130,000 refugees. In July, the clinics provided services for more than 3,000 people, including 940 women who requested family planning.
-- Reported by Khetam Malkawi