Across Syria, the biggest humanitarian and refugee crisis of our time in the region, the United Nations Population Fund, UNFPA- Syria continues to provide lifesaving supplies, care and support to women, girls and young people caught up in emergencies, and works with affected families, and communities to build resilience against future crises.
Since the beginning of 2016, UN agencies increased efforts to reach as many as possible people in need living in hard to reach and besieged areas. Humanitarian partners successfully during June 2016 delivered multi-sectoral assistance through UN inter-agency operations reaching over 8,332 civilians in besieged, hard-to-reach and other priority crossline locations with dire humanitarian needs.
On 14 July, UNFPA Syria office participated in an inter-agency convoy delivering health, medical, and other emergency supplies to the besieged Al-Waer neighborhood in Homs.
This was the first of two convoys planned to the neighborhood targeting 75,000 people in need (approximately 15,000 families) with the most recent inter-agency humanitarian delivery to this area was on 16 June.
As part of this convoy UNFPA-Syria, in cooperation with the Syrian Arab Red crescent (SARC), launched the first reproductive health clinic in Al-Waer. 
"Humanitarian response is a priority for UNFPA-Syria, we will strengthen our efforts to meet the sexual and reproductive health and protection needs of women and girls during the Syrian crisis," says Massimo Diana, UNFPA's Representative in Syria.
The clinic was equipped with specialized medical staff and basic medical supplies such as pharmaceuticals, laboratory diagnostic equipment, ultrasound, oxygen concentrator, generator, sterilizer and gynecological examination beds.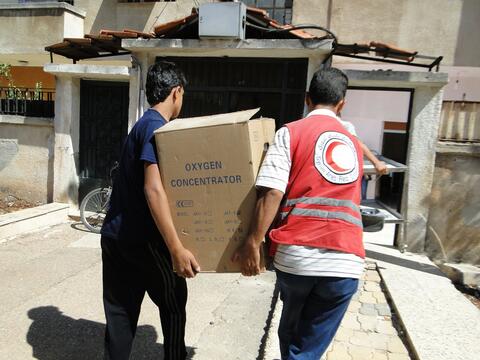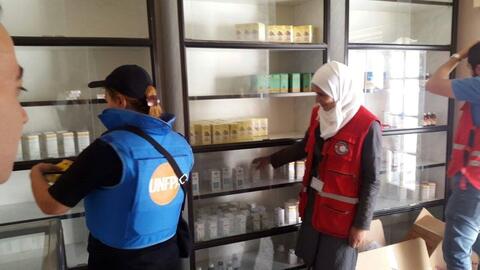 In parallel, the UNFPA team visited their key partner in Homs the Syrian Family Planning Association (SFPA) medical point in AlWaer, where critical health services are provided, such as family planning, health and premarital counselling, and awareness sessions including early marriage. This facility supports 40 to 70 beneficiaries per day.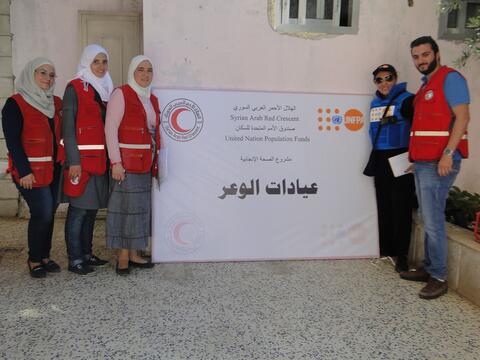 "We are so happy and blessed to be able to serve in a besieged area, we feel like we are one family, we have a deep feeling of content and satisfaction", Amal, one of the service providers of SFPA said.