EL NABATIEH, Lebanon/DEIR ALLA, Jordan – More than four years after conflict erupted in Syria, the chaos has resulted in one of the worst humanitarian crises in the world. Millions of people have been affected, yet shortfalls in funding threaten to deprive them of critical assistance.
Today, some 7.6 million people are internally displaced within Syria – the largest displacement crisis in the world – and almost 4 million Syrians are living as refugees in surrounding countries. Their needs are enormous, but the Regional Refugee and Resilience Plan, an international humanitarian appeal, is less than a quarter funded, according to information released today.
Health services are growing too expensive for many refugees, or are simply unavailable. Without further assistance, some 70,000 pregnant refugee women are at risk of giving birth in unsafe conditions, UN agencies estimate.
Tragic consequences
Isra'a,* a Syrian refugee in El Nabatieh, Lebanon, knows all too well the tragic consequences of inadequate health care. When she fled Syria 18 months ago, she was pregnant.
"We left Syria so I could give birth in safety, and I had my baby in a private Lebanese hospital," she told UNFPA, her voice catching as she recalled the story. Her son was born premature and required life-saving neonatal care.
Isra'a and her husband sold everything they had to pay his medical bills. But soon their money ran out, and she and the baby were discharged.
Isra'a looked away as she described what happened next: "He died 17 days later, at home."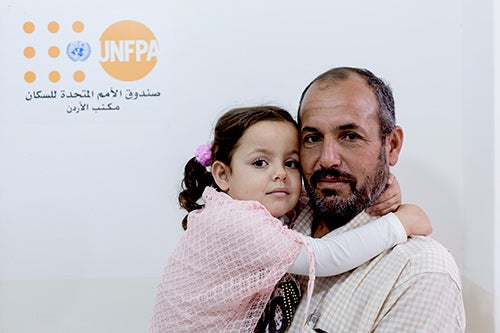 Today, she is pregnant again, and is wracked with anxiety. But she is receiving help – and antenatal care – at the UNFPA-supported Kfar Sir women's centre. The centre offers psychological support for survivors of trauma and also arranges midwifery care and other services for pregnant women.
"The antenatal care is free here," Isra'a explained while waiting to see a midwife.
"No practice would accept me as a patient, even though I'm registered with UNHCR [the UN Refugee Agency]. Medical care in Lebanon can be very expensive. I did not know that I could have free reproductive healthcare until I came to the women's centre."
Prenatal care leads to help for the whole family
Mahmoud's* family is also struggling. They fled their home in Syria a year and half ago, and are having difficulty adapting to their new lives in Deir Alla, Jordan.
"We all miss home," said Mahmoud, a 47-year-old father of four. "I carry the key to my house in my pocket everywhere I go. But I'm afraid we will never get the old life back."
The uncertainty is taking its toll. "My daughter does not remember our life before the war. All she knows is conflict and exile. She stopped talking and quit playing with other children," he said. "It hurts me to see my child like this."
Mahmoud's wife is also pregnant. Fortunately, she has been able to receive prenatal care at the UNFPA-supported Deir Alla women's centre. And through her visits, she learned about services available to the whole family.
She and Mahmoud enrolled their daughter in a rehabilitation programme for children. Now, the family attends counselling programmes together, and their daughter has started speaking again.
"We've been through a difficult time, and I think the centre helped us a lot – including me," Mahmoud said.
"Terrifying"
Still, the shortage of funding means adequate maternal health care and psychosocial care remain out of reach for too many refugees.
"Pregnant women often have no idea where to get medical care," Isra'a told UNFPA. "We hear stories of women left to deliver on their own."
After her excruciating experience, she has unique insight into how they must feel.
"It must be terrifying," she said.
*Names changed to protect privacy
- See more at: http://www.unfpa.org/news/shortage-funding-threatens-care-pregnant-syria...