UNITED NATIONS, New York - The Syrian crisis continues to send shockwaves through the region, taking the heaviest toll on women and girls. Some 10.8 million people are affected by the emergency in Syria, including 432,000 pregnant women. Meanwhile, in surrounding countries – Egypt, Jordan, Iraq, Lebanon and Turkey – there are around 3 million Syrian refugees , an estimated 76,000 of whom are pregnant women, according to July data from UNFPA, the UN High Commissioner for Refugees, and the Disaster and Emergency Management Presidency of Turkey.
Conditions for women and girls remain harsh, even for those who have escaped the conflict zone.
"Being a refugee gives you a sense of uncertainty – especially if you are pregnant," 18-year-old Hadiya* told UNFPA. She fled the violence in Syria and is living in Domiz Camp in Iraq.
Pregnant women like Hadiya require a full suite of health assistance, from antenatal care to safe delivery services and post-delivery care.
An estimated 3.4 million Syrian women and girls of reproductive age in Syria and surrounding countries also require access to essential reproductive health services. And there is an increasing need for support for survivors of gender-based violence.
Threats driving child marriage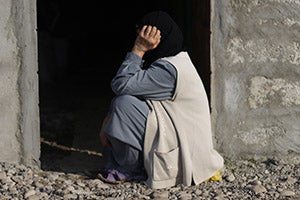 Refugee women in Lebanon report that fear of sexual harassment and exploitation has restricted their mobility, and some families are resorting to child marriage as a coping mechanism, according to a recent 
UNFPA situation report
.
Parents in dire circumstances sometimes feel that marrying their daughters off will protect the girls from sexual violence. Others say it alleviates burdens on the family. In Jordan, a report by the UN Children's Fund revealed that nearly one in three marriages among Syrian refugees involved a person under 18.
UNFPA and partners are scaling up efforts to assist families by raising awareness of the dangers of child marriage, providing sexual and reproductive health services, and supporting survivors of abuse and violence.
UNFPA response
In Syria, through UNFPA's support to 71 health facilities, some 19,400 women have been reached with reproductive health services and support for survivors of gender-based violence. Among the services provided are emergency obstetric care and psychosocial assistance. UNFPA has additionally provided reproductive health services, including voluntary family planning services, to 14,000 others.
"I hope that my baby can be born safely and sleep in calm," said Sham, a 27-year-old refugee from Homs. She is living in a shelter in the countryside of Damascus, and is receiving assistance from a UNFPA-supported health centre.
UNFPA is also providing reproductive health services and psychosocial support to tens of thousands of women in Egypt, Jordan, Iraq, Lebanon and Turkey. Additionally, youth programmes are teaching life-skills to young people living in camps and host communities. Social services are also being prioritized, with safe spaces established for women and girls.
Prolonged hardships
With the conflict now in its fourth year, the prolonged hardships are proving difficult for many people to bear. Still, there are signs of resilience even in the bleakest circumstances.
After a harrowing flight from the violence in Syria, Om Adnan settled in Iraq, where she felt overwhelmed by her struggles as a refugee.
"Dying as a result of hunger or war didn't matter to me – until I found out I was pregnant," she told UNFPA.
Despite the challenges she continues to face, Om Adnan says her outlook has changed. She is receiving antenatal care and other support through a UNFPA-supported clinic, and it seems the pregnancy has brought her a sense of promise.
Now, she says, "I want to live."
*Name changed