Leen Darwish, 23 years, is like a Syrian girl next door, except that she has dreams to teach computing and software coding in Arabic language to thousands of Syrians and Arabs in general as a ticket to a better future. As the first recipient of UNFPA's Innovation Grant, Leen is another step closer to making that dream a reality.
A student of computer sciences at Damascus University, Leen is inspired by the potential of social innovation and online collaborative technologies to transform the future of Syrian society. When that happens, she wants to be counted among the change-makers in the Syrian society.
"With the innovation grant money from UNFPA, I am preparing three new Arabic-language online courses that will be taught online to 5,000 users. This is the best way to tell my fellow Arab youth about the new opportunities in the software coding business that they all could tap into", Leen says, with a twinkle in her brilliant eyes.
The online courses offer a way out of being stuck in the dysfunctional educations system of Syria that has witnessed extensive damage together with nearly every sector of the Syrian social and economic infrastructure. 
Leen has helped co-found Remmaz, a web-based learning platform for learning software coding that won her the UNFPA Youth Programme-supported Innovation Grant. She attended a 3-week boot camp, mentored by a professional team of experts in business and management skills with expertise in small entrepreneurship.
"Since we had started looking for investment, UNFPA's Youth entrepreneurship program was the golden opportunity for Remmaz to grow and go on", Leen explains. "The opportunity to develop new online courses is the first step for me to realize achieve my dreams through Remmaz", Leen added. 
Leen believes that teaching Syrian youth how to code could give them an alternative way to access the global industry and be part of it by using the latest tools that underlie today's dominant technologies. Remmaz is being seen as among the first online platforms that teaches coding through Arabic courses! "Remmaz is a small beginning for now, but we're working to make it an effective resource for large-scale learning that gives every Arab person the chance of learning the cutting-edge technologies", Leen elaborated.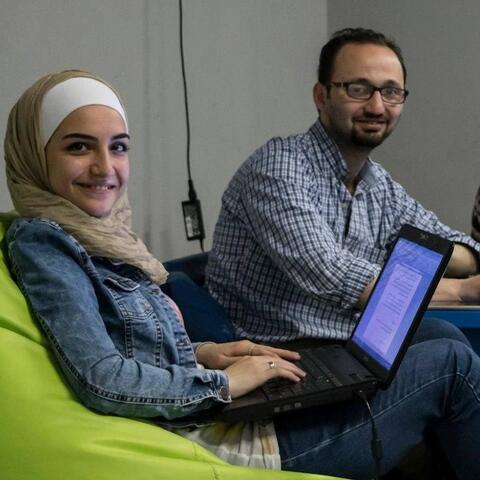 Leen is one of the 28 young Syrians who recently completed a three-week orientation in "Startup Business and Communication" in Damascus, and will be granted financial allocations to launch their own small projects. Within the framework of UNFPA innovation project, this entrepreneurial initiative has been launched, a first for UNFPA Syria. The initiative that was launched in Damascus in 2015 has been extended to the governorates of Homs and Tartous to address the increasing needs of Syrian youth for skill building as the relentless cycle of violence and crisis is Syria drags on.