UNFPA in cooperation with Y-Peer organized one-week workshop on interactive theater techniques for young people to practice new methods which will enable them to share social messages on different topics by performing short sketches. The workshop continued for 7 days, between 19-24 May in Damascus, Syria. It engaged 24 young people from different NGOs, i.e. from "The Islamic charitable Association" in Homs, "Aoun project for relief and development" and "Masyaf charitable association" for the first time.
"I didn't want to join the training and I didn't think it would be interesting enough for me. However, after the second day, I had discovered that there was a lot to explore about drama, theater and how I can use them to bring about positive change in the community," Kamar, one of the participants noted on the closure day.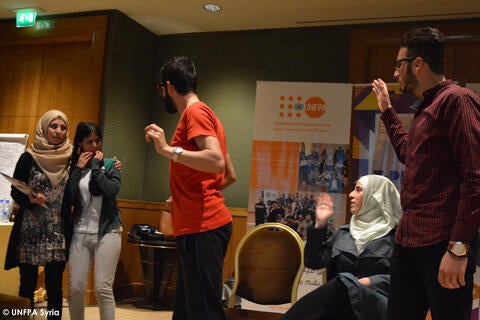 "Their future is our future," Massimo Diana, UNFPA Representative in Syria, noted emphasizing on the great role that UNFPA is playing in engaging young people in the change process as well as unleashing their potentials.
On the 6th & final day, young people performed 4 sketches on stigma, child marriage, and motivated youth which definitely contributes to the overall raising awareness campaign UNFPA is implementing in Syria.