A warm UNFPA welcome to Ruba, our first female Local Security Assistant!
The UNFPA Syria Country Office has the distinction of being the first country office to successfully recruit a female security officer in the organization's history. This was no accident. An experienced candidate with the right profile was also looking for an opportunity to lend her security expertise to a cause she was passionate about – empowering women and young people.
A Syrian national, Ruba joined UNFPA from the FAO office in Damascus, where she oversaw the safety and security of 30 staff based in the country. She had previous roles in the UN system as a security professional and coordinated emergency assistance convoys with the UN Department of Safety and Security, WHO, UNICEF and IOM.
Her interest in security began when she took her first job as a safety guard at a mall in her hometown of Homs while completing her university degree. "My friends tried to dissuade me from working in security because of its inherent risks and dangers," says Ruba.
She credits her family and upbringing for giving her the confidence to pursue her chosen profession. "I was raised in a family where the mindset of a difference in abilities between girls and boys did not exist," says Ruba. She credits her parents for raising her and her two sisters to be self-reliant and independent people. "My mom always encouraged me working as a security professional. She said that I was serving humanity which made her very proud of me."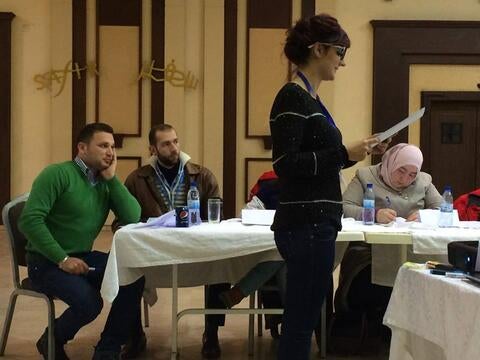 In 2011, Ruba was coordinating security initiatives at the Syrian Society for Social Development, a local NGO based in Homs, when the armed conflict began. She witnessed unspeakable tragedy and the total destruction of her city. "I remember when an armory warehouse was hit. Ordinances were exploding around the city causing widespread fear and panic," says Ruba. "I immediately got into action and made sure our 50 volunteers were accounted for and all got home safely. That was a tough day in the office."
One of the challenges Ruba has had to overcome in her career is being on the receiving end of condescending glares and comments from some of her male colleagues. "They think a small and slim person cannot make a good security professional," says Ruba. "They have this fixed notion of security personnel as muscular men with moustaches."
UNFPA Syria Representative Massimo Diana believes that Ruba's example – discharging her duties at the same level as her male counterparts – could inspire other women and girls to push for their own rights and participation in the peace-building process. "I am happy to see Ruba join our team and I am confident that she will be an important addition," says Massimo. "Her security and crisis training background can help us expand the reach of our reproductive health and gender-based violence interventions to the hard-to-reach and besieged areas of the country."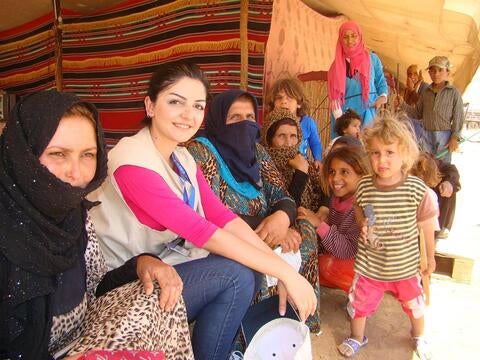 Ruba is excited for her new opportunity and ready for the challenge. "When I heard about the vacancy at UNFPA, I was so enthusiastic to work for an agency that puts women and youth at the center of its work," says Ruba. "I am excited to support the organization's mandate, especially its efforts to reach the most vulnerable and marginalized girls in Syria."
Please give a warm UNFPA welcome to Ruba, our first female Local Security Assistant!